Help and FAQs
We have tried to answer some of the most common questions you may have in the following sections:
When were they published?

We aim to publish new editions every year. The publication date of each book is listed clearly.
Are they easy to read?

We take pride in publishing plain English tax guides that contain lots of easy to follow examples. You will see dozens of testimonials on the site.

Will they help me save tax?

All of our tax guides are littered with tax planning tips to help you legally reduce your tax bill. Naturally we can never guarantee to save you tax as everyone's situation is different. (Always steer clear of any tax adviser who guarantees to save you tax!) We do, however, go to great lengths to provide details of every conceivable tax saving opportunity.

How long are they?

Most of our guides are well over 100 pages in length, some are over 300 pages long.

Who writes them?

All of our tax guides are written by experienced tax writers. Carl Bayley, the author of some of our most popular guides, is currently the Chairman of the Tax Faculty at the Institute of Chartered Accountants in England and Wales (ICAEW).

Are the printed tax guides proper books?

Absolutely. All of our tax guides are printed and bound by a professional book printer. You will also be able to download a free PDF copy of any guides purchased.

What if I'm not happy with my book?

We'll refund it, no questions asked. We ask that any books returned are sent back within 14 days from the date received, and in the condition in which they were delivered. Buyers are responsible for any return postage costs.

For electronic only purchases, you have 14 days from date of purchase within which to request cancellation if you are not happy with your guide.

top of page


About Taxcafe UK Ltd

How long has Taxcafe been around?

Taxcafe.co.uk was launched in 1999 by Nick Braun and Aileen Smith. Their aim has always been to produce affordable plain English tax information for landlords, business owners, accountants and other professionals.

Nick started working in tax publishing in 1989.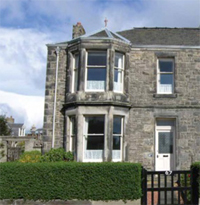 Where are you based?
The Taxcafe head office is based in the seaside town of Kirkcaldy, just North of Edinburgh. Note, although we are based in Scotland, our tax guides are aimed at all UK taxpayers. In fact most of our customers are in England.
Our authors are scattered all over the UK.


top of page
How do I order from your website?

Ordering from our website is quick and easy. Order online or by calling us on (01592) 560081.

Do I need to register to order?

No. We try to make your shopping experience as simple and quick as possible, so we don't ask you to create an account.

What payment methods do you accept?

You can pay using either:


Worldpay - Worldpay is a global leader in payments processing technology and accepts all major credit cards.
PayPal - PayPal is also a major payment processing company and is a member of the Fortune 500.
How much do you charge for delivery?

Normally we charge postage. However, we are currently offering FREE delivery within the UK.
For countries outside the UK, please contact us before ordering.


When will my order arrive?

All of our books are sent by Royal Mail 2nd Class and should arrive within 3-5 working days.

Privacy Policy
As Featured In...
THE SUNDAY TIMES
BBC RADIO
THE GUARDIAN